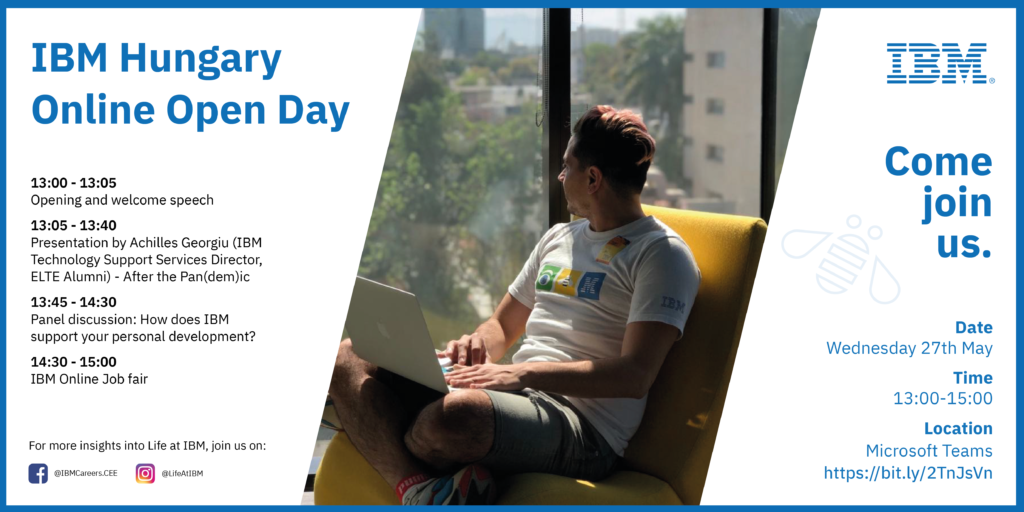 Do you want to know more about what impacts the COVID-19 pandemic made on the digital transformation of our world?
Meet our experts at IBM Open-Day @ ELTE on 27th May!
Join the event's dedicated Microsoft Teams Channel:
open the Teams tab in MS Teams and click "Join with code" and use this code: b1hmr8l
or click this link: https://bit.ly/2TnJsVn and use your ELTE Caesar / ELTE Office 365 account to join.
13:00 – 13:05 – Welcome – Drabik Edina (Site Leader)
13:05 – 13:40 – Achilles Georgiu – After the Pan(dem)ic
Trust in the digital world
Every crisis is always a great challenge for the companines and for every individual aswell, on the other side a situation like that also ensures plenty of opportunities if we are ready to leverage them. The pandemic situation has boosted the Digital Transformation of every organisation across the globe, in just a few weeks we transformed more than in the last 10 years. Does the situation also create a new digital divide that will deepen fractures in our society? Will this impact the polarisation of our jobs? What shall be the first steps be after the crisis? How to develop a culture of collaboration and trust?
The on-line session will focus on the impacts of COVID-19 on the digital transformation of our world, what can we learn from it and what actions can we take for the future.

13:40 – 14:30 Panel conversation – How does IBM support your personal development?

Sanne Rorby – Talent Acquisition Manager, Europe Hub, IBM CHQ, Human Resources
Hristo Dimitrov – Client Financing, Business Support Operations Manager – France IBM Global Financing, Business Support Operations
Tim R. R. Anseeuw – Global Business Services CPS T&T Agile and Engagement Champion & leader of BRG Group EAGLE Hungary
Bencze-Wurm Alexa Patricia (moderátor) – Talent Acquisition Coordinator
Main topics:
How do you collaborate in the future of work?
How your personality has evolved at IBM (over time/ cross borders)?
Hiring beyond technical skills
14:30-15:00 – Job fair
Bencze-Wurm Alexa Patricia – TA (moderátor)
Nemes-Mustafa Gina – TA
Vizi Zsolt – intern
Benoit La Dune – Account Delivery lead
Interested to make a real-world impact with your daily work?
Are you looking for outstanding career & development opportunities at a truly global company? Come join us at IBM in Hungary!
We are offering multiple open positions at diverse teams:
IT Services & Technology
Sales & Sales Support
Procurement
Executive Assistance
Finance & Accounting
Human Resources
Attractive office locations:
IBM Client Innovation Center: Budapest (Infopark offices) and Székesfehérvár
IBM Hungary International Shared Service Center: Budapest (CityGate, Infopark, DunaTower offices)
IBM Hungary: Budapest (Infopark offices)
IBM Capital Hungary: Budapest (DunaTower offices)
IBM Budapest Lab: Budapest (Andrássy street)
Why join us?
Competitive salary
Health/insurance related benefits (private health insurance, life insurance)
Flexible benefit elements (SZÉP card, access to AYCM sportpass)
Special discounts with IBM card
International environment
Development and career opportunities
Our vacancies are continuously being updated, be sure to check our
website for new opportunities.
Join us at the forefront of technology and shape the world of tomorrow!